Our Focuses|Human Rights and Social Inclusion|Social Engagement
Social Impact
Winbond has been involved in charity for many years. "Care for the disadvantaged, care about environmental sustainability, and fulfill corporate social responsibility" are Winbond's permanent commitments on corporate social responsibility. To put the beliefs in social care, public service and friendly environment in actions, Winbond gathers internal resources and our employees with their passion and love, focusing on areas such as "caring for youth and children", "supporting the disadvantaged", "academic cooperation", and "promotion of charity and environmental education". In the meantime, Winbond leverages core competencies of the industry, promoting digital work and constructing a field for scientific and technological innovation exchanges with concrete actions, to stimulate industrial development.
Social Impact in 2022
Ratio of Total Investment
| Type | Amount Invested in 2022(Unit: NTD) |
| --- | --- |
| Care for youths and children | 4,658,000 |
| Supporting the disadvantaged | 115,000 |
| Academic sponsorship | 11,210,000 |
| Promotion of charity and environmental education | 1,357,211 |
| Total | 17,340,211 |
Note: For the social impact in 2022, the investment amount included the amount of community investment, the amount of employee donations, and other project expenses disclosed in the company's consolidated statements.
Academic Cooperation
Research and development sponsorship for industry upgrading
Through long-term support for International Symposium on VLSI-TSA and VLSI-DAT, Winbond can accelerate the upgrade of Taiwan's information and communications industry and increase the exchange of industrial technologies domestically and abroad. We assist in promoting the exchange platform of leading-edge technologies for researchers related to semiconductor technology and design to enhance Taiwan's semiconductor technology.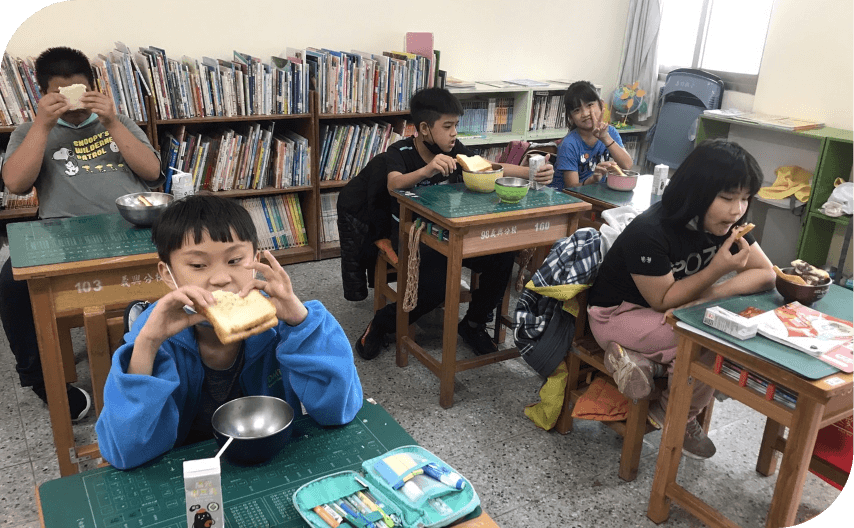 Care for Youths and Children
Happy Breakfast Program for School Children in Rural Areas
To help improve the breakfast of school children in rural areas, since 2011, senior management has been making voluntary donations through a non-profit organization to fund the happy breakfast program for rural elementary schools in Hsinchu and Taichung. By breakfasts and support for rural schools, sustaining the basic needs and health of school children, so they can be physically and mentally equipped to explore the world. Winbond provided NT$530,000 in breakfast funding in 2022 to continue supporting healthy learning for school children. At the same time, our employees also conducted on-site visits to understand the benefits of the program for further evaluation and enhancement.
Supporting the Disadvantaged
Fundraising for Impoverished Students Education Financial Aid
To supplement education resources for children from impoverished families and help them to attend school on a regular basis, Winbond has been working with Taiwan Fund for Children and Families since 2017 by inviting employees to raise education financial aid. From the president to entry-level employees, our colleagues responded enthusiastically and 1,052 employees raised $4,128,000 in 2022, supporting 1,032 elementary school students for a whole year.
In 2022, donation amount from Winbond employees
Supporting elementary school students for a whole year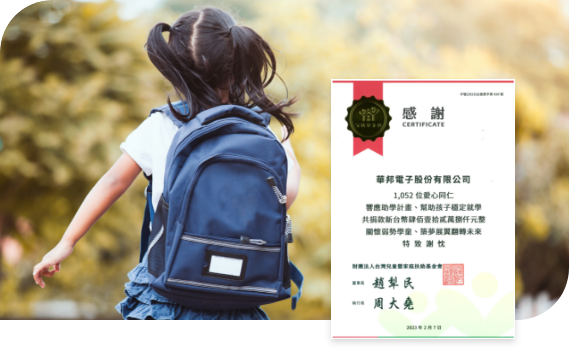 Result of Fundraising for Impoverished Students Education Financial Aid
2022 Southern Taiwan Science Park Charity Picnic
Winbond set up a booth at the "2022 Southern Taiwan Science Park Charity Picnic" for a charity sale, and the proceeds of NT$15,000 were all donated to charity. In addition, another NT$100,000 was donated to the Tainan City Government Bureau of Social Affairs to improve the basic life and learning quality of disadvantaged families around the Southern Taiwan Science Park, giving priority to assisting disadvantaged families in Sinshih, Shanhua, and Anding Districts where the Southern Taiwan Science Park is located, and Luzhu, Gangshan, and Yong-An Districts where Kaohsiung Science Park is located. A total of nearly 3,500 persons and nearly 1,000 disadvantaged families have received assistance.
Charity sale income were all donated to charity
Donated to the Tainan City Government Bureau of Social Affairs
Total of disadvantaged families were nearly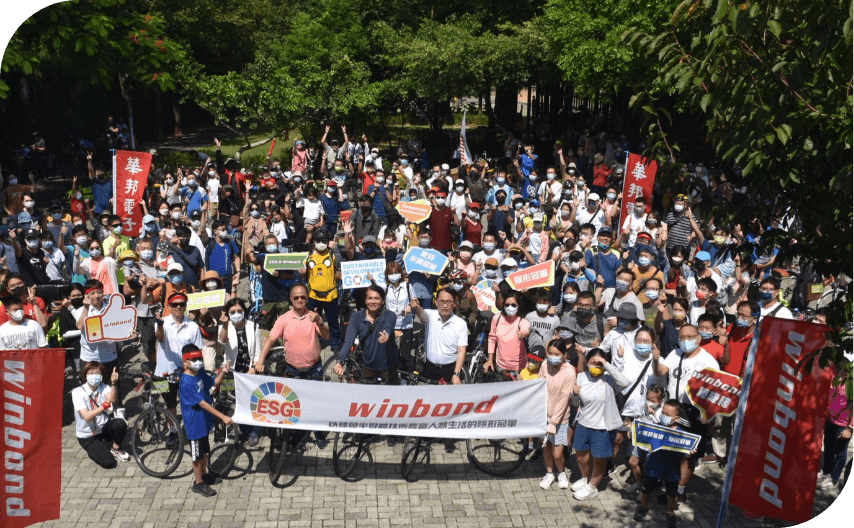 Promotion of Charity and Education Protection
Sponsoring Houfeng Bikeway
Winbond joined the ranks of sponsoring public recreational facilities in 2022, and worked with the Tourism and Travel Bureau, Taichung City Government in the Houfeng Bikeway enterprise sponsorship. Winbond is responsible for regular road cleaning, tree thinning, etc. President Pei-Ming Chen of Winbond led more than 500 employees and their families to participate on-site to maintain the appearance and safety of the Houfeng Bikeway, working together to keep the cleanliness of public recreational facilities in Taichung City and improve the quality of recreation, fulfilling corporate social responsibility and the spirit of common good with the local environment.
Number of participants is more than
Guard Fazi River: Do Sports for Charity, Stay Healthy for the Earth
Let our energy drive vitality! In 2022, Winbond invited employees to participate in the "Do Sports for Charity, Stay Healthy for the Earth" activity. The total number of calories consumed and accumulated by Winbond employees in their daily exercise was 2,422,660 kcal, converted to NT$605,655. In 2023, the amount was donated to sponsor the "The Society of Wilderness" to organize activities for Fazi River protection and environmental conservation.
Winbond continues working with the The Society of Wilderness, and the future donations will be used in environmental education actions such as know the environment, bird surveys, and river cleanup, calling on employees and their families to protect the rich ecology of Fazi River and feel the beauty, and encouraging employees to exercise to become healthy while experiencing the beauty and power of life.
The amount of sponsorship is more than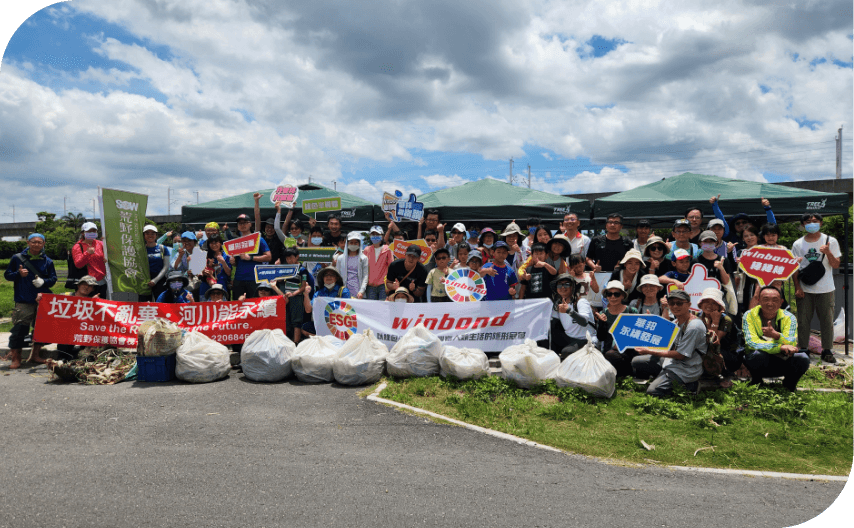 Emergency Aid
Emergency Care for Employees
Winbond has set up employee emergency aid and loan programs to help employees in financial distress when the employee or his/her family suffers sudden calamity, such as injury, disability, death, or accident, to make sure they can continue to work and live with assurance that their livelihood is secure.

Blood Donation Activity
Winbond also calls employees to donate blood in the annual blood drive which illustrates the Winbond's belief in the value of life in actions. In 2022, 5 blood donation events were held, attracting a total of 219 participants, donating 362 bags of blood.
In 2022, Blood Donation Activity
Number of participants is