Our Focuses|Environmental Sustainability|Water Management
Water Management
Water Efficiency Policy
Winbond Electronics follows the vision "Be a hidden champion in providing sustainable semiconductors to enrich human life", implements the responsibility of green manufacturing, reduces the impact on the environment in the process of enterprise operation. We are committed to the goal of social responsibility and sustainable operation. 
The Company's water efficiency policy is as follows:
All employee participate in water conservation and promote awareness of water management.
Prioritize water-saving designs and continuously improve water efficiency.
Recycled and reused water resources to ensure the achievement of waterefficiency targets.
Comply with government regulations and regular review water management.
 
2022 Target Achievement
| Indicators and Targets | 2022 Targets | 2022 Achievements |
| --- | --- | --- |
| Water consumption per product unit(liter/layer - wafer photomask) | ≦145 | 134 |
| Fab Water Recycling Rate (%) | ≧80% | 80.5% |
Note: Data for the Kaohsiung Fab was added in 2022. Additionally, as the Kaohsiung Fab is newly-established and just began operations, it has not been included in this year's calculation of water consumption per product unit. 
Achieve 2022 water consumption reduction target
— 2022 Water-Saving Measures (Unit: megaliters /year) —
Item
Water Conservation Measures
Explanation of Water Conservation Measures
Water Saving
1
Water-saving measures for UPW
used in production process
Water consumption parameters adjusted for
production machines
17.2
2
Increased recycling rate for ROR
systems
Increase recycling rate for RO water
production equipment
11.8
3
Improve RO water production rates
for UPW system
Adjust system operation times, reducing
amount of concentrated water discharged
35.3
— Water Withdrawal (Unit: megaliters) —
| Water Resources Types | 2020 | 2021 | 2022 |
| --- | --- | --- | --- |
| Total Water Withdrawal  | 3,633 | 3,293 | 4,131 |
Note: The water source is tap water, the statistical scope of the data is Winbond Taiwan, and the water resources management has passed the third-party ISO14001 verification.
Water Recycling
Winbond continues to increase water recycling rates. In 2022, the overall plant recycled approximately 80.5% of its water and 89.3% of its process water (meeting the science park's commitment under the environmental impact assessment to recycle more than 77% of all water used, and more than 85% of all process water used). Winbond implemented 3 new water conservation measures in 2022 that increased total water saved by 64,000 cubic meters.
Accumulated water savings between 2018 and 2022 has reached
3,530
megaliters, equivalent to
0.7
times the Baoshan Reservoir's capacity.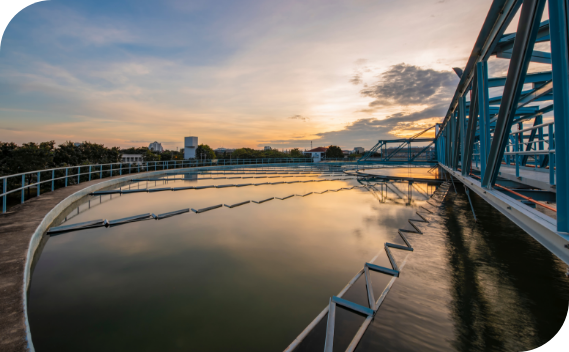 Wastewater Management
Winbond's wastewater treatment facilities are designed to collect up to 20 types of waste liquids through separate pipelines standardizing wastewater quality. Each wastewater type is then treated through 11 distinct wastewater treatment facilities. Operating and discharge permits are applied for pursuant to the Water Pollution Control Act and the Soil and Groundwater Pollution Remediation Act. 

Testing is conducted by a laboratory accredited by the Environmental Analysis Laboratory twice a year to confirm that the discharge water quality satisfies CTSP's influent standards. Additionally, in order to reduce the environmental burden of the wastewater treatment facility, and to reduce the use of chemical products, Winbond also collect and treat waste liquids from the washing towers, cooling towers, process cooling water, and recycled soft water from production processes, reusing this treated waste liquid in secondary water applications throughout the site Apart from these measures, Winbond has continued to promote improvements to our water pollution prevention facilities, reduced our pollutant biochemical oxygen demand (BOD), chemical oxygen demand (COD), and the amount of suspended solids (SS) and sludge. 

Measured COD, SS and BOD values for 2022 were far below the CTSP influent standards.