Our Focuses|Corporate Governance|Green Investment
Green Investment
The whole world is facing the impact of climate change. As one of Taiwan's intensive electronics industry, we set up a green investment management unit to achieve the goal of green investment and create long-term value for investors and shareholders.
Green investment management unit
As the basic operating unit, the Finance Department further submits relevant proposals to to the board of directors for resolution, and the board of directors to participate in relevant decision-making together
Responsibility
Assess the environmental, social and governance risks of investment projects, ensure that projects meet sustainable development goals, and make sustainable investment decisions
In 2022, Winbond carried out a comprehensive renewable energy usage plan for the future electricity consumption of the enterprise itself, and had an in-depth understanding of the status of various types of renewable energy industries and whether they could be applied to Winbond's electricity usage. In addition, in May 2022, Winbond invested in solar energy fields to slow down the occurrence of climate change with practical actions.

Investment in Green Energy
In May 2022, Winbond acquired a 15% equity in CHIA-HO Green Energy Corporation for NT$555 million, whose main business is to develop solar energy fields. Considering that its parent company, Taiwan Cement Corporation, has valuable practical experience in the renewable energy industry, it will bring positive benefits to Winbond in fulfilling its corporate sustainable development goals, and help Winbond obtain part of the renewable energy electricity needed to move towards net-zero emissions goals.
Obtaining the Carbon Credit of the World's Largest Blue Carbon Project
In response to the international trend of carbon neutrality and the goal of net zero in 2050, Winbond obtained carbon credit from the Pakistan Mangrove Restoration Project in November 2022. This mangrove restoration project is a Delta Blue Carbon - 1 project, the largest blue carbon project in the world.
The Delta Blue Carbon - 1 project (DBC-1) is a reforestation and restoration project of mangroves and wetlands in the Indus Delta region of Pakistan. The project covers an area of
350,000
hectares and is expected to reduce carbon emissions by more than
142
million tons of carbon dioxide equivalent during the 60-year project period from 2015 to 2075.
The Indus Delta consists of a richly landscaped system of channels, low-lying islands, intertidal zones and mangroves. The mangroves here are the largest arid climate mangroves in the world and lie on the main migration routes of thousands of bird species. These mangroves have faced increased logging hazards in recent years, with major inducement of mangrove deforestation in the region being the use of mangroves as a source of fuel wood, fodder, and pasture for grazing, etc. Over 42,000 people live in the 60 coastal villages within the project area, over 70 percent of whom live below the poverty line, with many communities lacking access to clean drinking water, basic education, sanitation and sanitary facilities, and relying on agriculture as their primary income source; the depletion of freshwater has increased the salinity of mangrove and delta soils, and agricultural and coastal fisheries have gradually reduced their yields.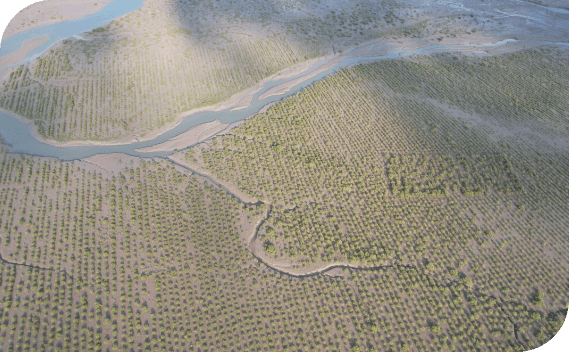 Image Source: Photo courtesy of Delta Blue Carbon Project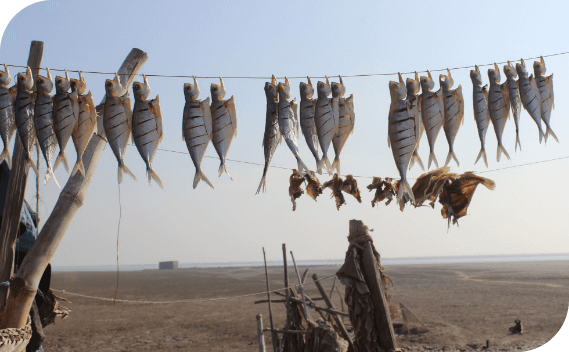 Image Source: Photo courtesy of Delta Blue Carbon Project
The DBC-1 project hopes to alleviate these problems and prevent biodiversity loss in this critical biodiversity area by regenerating mangroves and controlling the causes of mangrove deforestation and degradation, which will be achieved through the reforestation of more than 224,000 hectares of mangroves and by involving local communities in the planning and implementation of the project's activities. Local residents participate in conservation activities in various ways, including the mangrove supervision agreement, in which local residents are hired as supervisors, and the local residents also work as partners on the project in mangrove forest restoration, protection and sustainable management; other program actions include increasing education, sources of safe drinking water and health care, improving law enforcement, developing local businesses, microfinance programs, promoting gender equality, preserving historic heritage, and developing revenue streams. 

While focusing on the semiconductor industry, Winbond hopes to invest continuous and stable resources to participate in global activities related to carbon emission reduction and contribute our strength to the sustainable survival and development of the earth.