Our Focuses|Green Product|Research, Development, and Innovation
Research, Development, and Innovation
Digital Transformation
From 2020 onwards, Winbond has been pushing for the Company to undergo a full digital transformation. Winbond has established the Digital Transformation Committee for Business (DTCB) and the Digital Transformation for Manufacturing (DTCM), which are responsible for driving the digital transformation of our business, production, and manufacturing operations. The President shall regularly convene meetings to discuss the progress being made by these Committees. Additionally, senior management shares articles on digital transformation each week; and our human resources departments have invited external speakers to provide training related to digital transformation. Winbond has also established a platform for internal collaborations. As of 2022, digital transformation has already become an effective tool regularly used by each of our departments in their day to day operations, demonstrating the effectiveness of our digital transformation measures.
Launch of Four Major Digital Transformation Systems
In 2022, Winbond launched four systems able to effectively increase the productivity of the research and development department, with the help of the Computer-Integrated Manufacturing (CIM) team.
Four Major Digital Transformation Systems
Explanation of system usage
Results
Flaws and yield analysis system
Consolidates measurement data from various module machines online, helping the research and development department analyze and make connections between data on development operations, analyzing and consolidating data with high efficiency.

Greatly reduce information analysis times.
Increase engineer productivity.
Improved analysis system helps engineers increase data analysis efficiency by 50%.

Automated engineering reports system
Rapidly and automatically looks up and consolidates measurement data online.

Effectively supports information processing operations.
Helps the research and development team analyze and weigh experiment conditions, continuously optimizing the process.
Automated system helps engineers more efficiently create engineering reports, increasing productivity by 80%.

Digitalize and standardize online measurement and electrical data
Helps Winbond employees make adjustments based on data to production module conditions when necessary to meet requirements.

Greatly improves the prediction and analysis of the key electrical properties of memory elements.
Allows for good predictions to be made for key parameters.
System able to improve productivity by 15%.

Memory element reliability analysis system
Effectively consolidates and organizes massive amounts of measurement data, discovering the optimal operating parameters for use in product CP/FT testing.

Greatly increases the data analysis speeds of our engineers.
System able to improve data analysis productivity by 70%.
Green Innovation Research and Development
Predicting market trends for the new generation of products, Winbond has continuously invested resources into semiconductor design, manufacturing technologies, and sustainable innovations for products, creating competitive advantages and increasing market share for our green products. At the same time, Winbond has provided high quality products and services for our customers, whose needs Winbond has placed first.
Winbond green product development: Design considerations that take into account the product life cycle and reducing carbon emissions.
Semiconductor Industrial Chain
Winbond possesses an advanced and complete semiconductor industrial chain and professional specialization. This includes IP (Intellectual Property Rights) design and IC (Integrated Circuit) design, wafer fabrication, chip probing, and backend packaging and testing. Additionally, Winbond has been deeply involved in the KGD (Known Good Die) field for many years, working together with chip factories to provide SiP (System in Package) multichip packaging solutions and creating more value in collaboration with the semiconductor industrial chain.
Note:
System in Package (SiP): From a packaging perspective (downstream of the semiconductor industrial chain), this term refers to arranging multiple chips in series or in a stack, creating a single packaged electronic element.

Known Good Die (KGD): Refers to wafers which are not immediately packaged after being manufactured, but instead provided to customers and packaged into a single chip along with other products. Rigorous product quality standards thus need to be met for these products, in order to ensure that the functions of the final product would not be affected.
Current Status and Results from Research, Development, and Innovation
DRAM
In 2022, Winbond launched the HYPERRAM 3.0. This series of products is ideal for use in low power consumption IoT devices such as wearable devices. It is able to support voice control and tinyML calculations, and can also be used in vehicle dashboards, entertainment and remote communications systems, machine vision, HMI displays, and communications modules. In 2022, our Kaohsiung Luzhu Fab formally began mass production, an important milestone for Winbond. DRAM production line capacities can be gradually expanded in the future, adding new product lines for DDR4, or even higher speed ASIC DRAM products etc. to meet various customer requirements.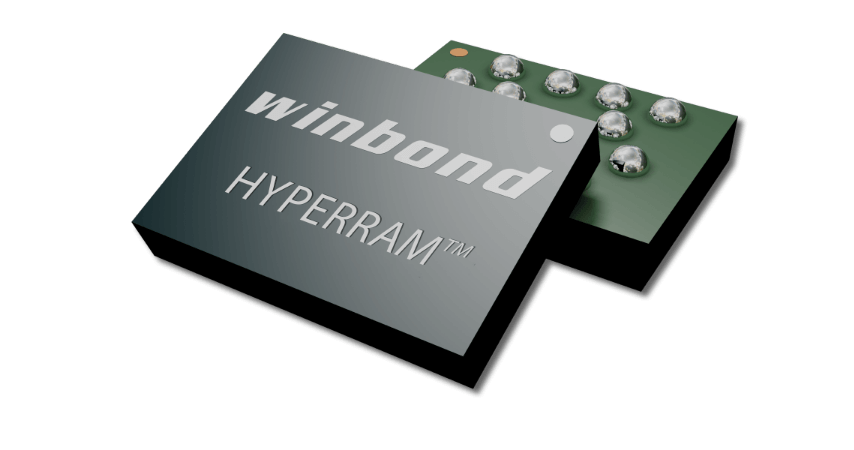 HYPERRAM™ 3.0
The third generation of our HYPPERRAM products utilizes the all-new 16-bit extended HYPERBUS interface, supporting data transfer speeds up to 800 Mbps through the same commands, bit address signals, and data bus format. It features the same standby power consumption, and only requires an adjustment to a small number of signal pins. The product also features a higher frequency.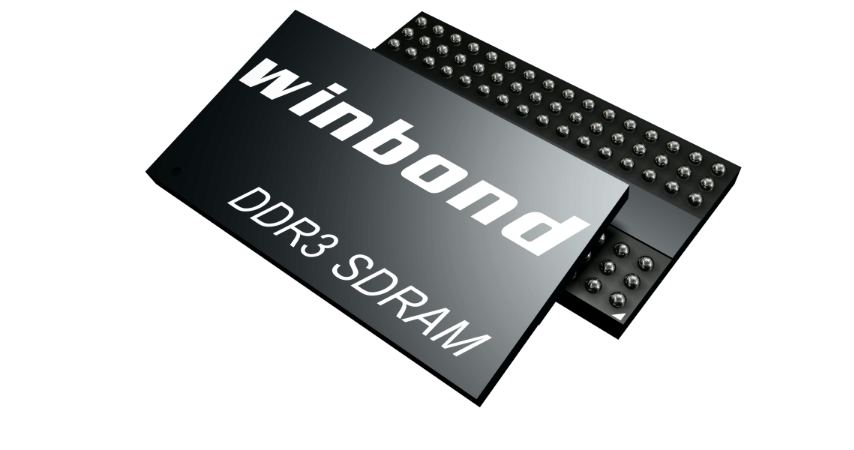 DDR3
Shrinking from 38nm to 25nm, and then further down to 25S nm. Operating efficiency goes up with each technology node, and our 2Gb DDR3 products have 35% reduced power consumption. Winbond has continued to supply DDR3 products, making sure to satisfy long-term customer demand.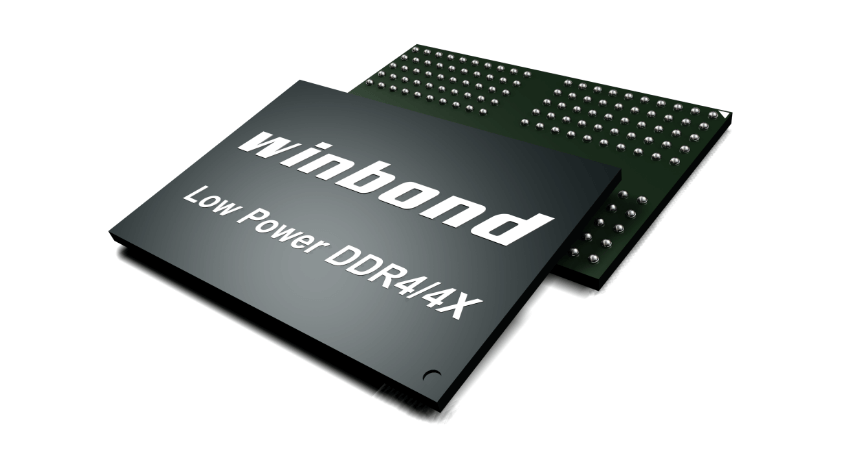 LPDDR4 Single Channel x16 4267Mbps
Winbond provides single-die package (SDP) and dual-die package (DDP) product combinations, with faster data transfer speeds compared to DDR4 x16 3200Mbps and LPDDR4 Dual Channels x32 4267 Mbps that provide even higher performance.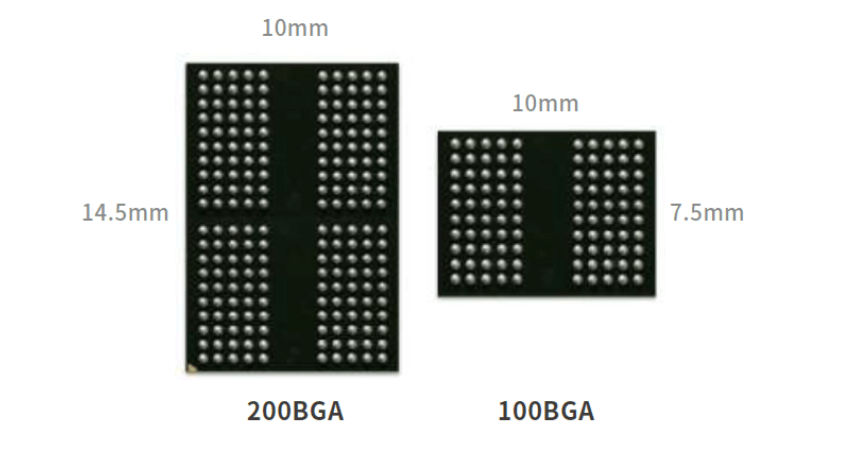 100BGA LPDDR4/4X Memory
Winbond is committed to shrinking the surface area of printed circuit boards (PCBs), and launched the 1Gb and 2Gb 100BGA LPDDR4/4X memory of Single Channel x16 with data transfer speeds up to 4267 Mbps in 2022. This product not only meets JEDEC JED209-4 standards but also takes up 50% less surface area compared to the original standard 200BGA products. This memory is ideal for IoT devices that require small packages with higher data transfer speeds.
Secure Flash Memory
Due to the constant advancement of IoT technology, digital information security needs have also been increasing. Governments around the world have continued to strengthen security laws and regulations. However, it takes multiple years for a product to become certified, creating practical challenges due to the short useful lives of products. In response, Winbond has created the TrustME® W77Q Secure Flash Memory series and other secure memory elements able to ensure the stability of IoT devices and provide protection for end-to-end connections.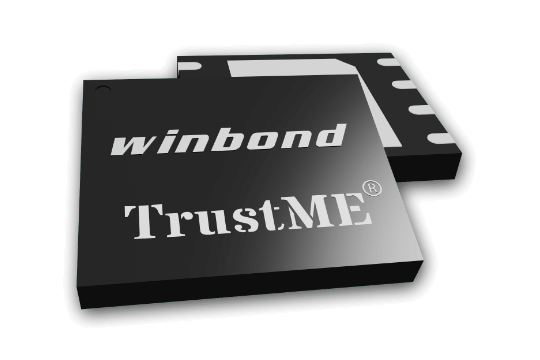 TrustME® Secure Serial Flash Memory W77Q Series
Improves protection against software and hardware attacks in line with the information security requirements of IoT systems, and also meets Common Criteria EAL 2+ certification standards for IoT devices. In addition to protection against software and hardware attacks, the W77Q series also supports secure eXecute In Place (XIP), and possesses sophisticated cryptographic encryption of the communications channel. It allows for personalization of each device with unique keys, cryptographic read and write locks, data integrity protection, secure over-the-air (OTA) firmware updates, root of trust (RoT) functions, and secure read, write and erase operations. The memory is ideal as a secure storage solution for operating systems with limited storage space, pins, and power.
TrustME® Secure Serial Flash Memory W75F
The W75F memory series was developed in response to the high security identify verification needs of mobile payment services and other applications, and due to confidential data storage requiring encrypted system hardware modules to possess EAL 5+ security certification. 

Products in the W75F series are the first secure flash memory solution in the world to obtain Common Criteria (CC) EAL 5+ certification. They also support secure eXecute-in-Place (XiP), and are able to protect the confidentiality and integrity of codes and data stored in IoT devices.
W76S Secure Element
The W76S possesses a SecurCoreTM, SC000TM 32-bit RISC core, and includes a 4MB W75F Secure Flash Memory Element whose memory size can be adjusted based on the requirements of the circuit designer. It has a core clock with speeds up to 100Mhz and a Memory Protection Unit (MPU), and utilizes various coprocessors and encryption technologies while also being Common Criteria EAL5+ and EMVCo certified, making it an innovative solution for security applications. 

The W76S can be used in embedded Universal Integrated Circuit Card (eUICC) applications, and supports multi-profiles and remote provisioning. At the same time, it also reduces the amount of space used on the PCB. eUICC can also promote growth and enhance operational efficiency for the M2M ecosystem.
Code Storage Flash Memory
One of Winbond's goals has always been to reduce power consumption and prolong battery life. To that end, Winbond has developed new processes and circuit architectures, and launching the world's first NOR Flash support 1.2V operating voltage, and through matching with the SoC that use advanced manufacturing process and low-voltage design to achieve high read and write speeds while also conserving power consumption.
In a scenario of true wireless application environment where 8 hours operation a day, and based on the total sales volume quantity of 1.2V Nor Flash memory in 2022, Winbond has saved power consumption 493,727 kWh comparing using 1.8V Nor Flash products, which is equivalent to reducing carbon dioxide emissions by 251.3 tCO2e, or 0.65 times the amount of carbon absorbed by the Da'an Forest Park (based on data published by the Executive Yuan Council of Agriculture and the Taipei City Government Department of Land Administration: 25.93 hectares, when calculated based on a carbon fixation coefficient of 14.9 tCO2e /hectare/year,Da'an Forest Park absorbs 386 metric tons of carbon dioxide a year).
1.2V NOR Flash
| Total power consumption | Performance | Advantages | Product applications |
| --- | --- | --- | --- |
| 45% less power consumed compared to the 1.8V NOR Flash in mainstream use today | Maintains similar level as 1.8V/3V Flash | Reduces PCB surface area used, allowing for lighter and smaller consumer electronics products to be designed. | Wireless headphones, smart watches, smart wristbands, smart glasses, and other wearable devices with high power-saving requirements |
Intellectual Property Management
2022 Patent results
Patent applications
Cumulative number of worldwide patent applications exceed

6,000

.
Apply

450

patent applications in 2022.

17th

Place among the Applicants of the Taiwanese Juridical Persons, place on the

top 20

Applicants of the Taiwanese Juridical Persons for six consecutive years.*
Patents granted
Cumulative number of worldwide granted patents exceed

4500

.
Worldwide granted patents nearly

380

in 2022.

16th

Place among the Patentees of the Taiwanese Juridical Persons, place on the

top 20

Patentees of the Taiwanese Juridical Persons for seven consecutive years.*
Note: Data sourced from the Ministry of Economic Affairs, Intellectual Property Office
Intellectual property (IP) are important assets for maintaining corporate sustainability. In order to protect the research and development resources and results invested by Winbond, Winbond has established IP policies in line with the Winbond's operating goals. By institutionalized IP management, Winbond nurturs a coporate culture of innovation and strengthens the IP protection awareness of employees. Winbond encourages the continuous innovation and IP right creation of our employees during the course of work which strengthens the sustainable competitive advantages.

Apart from continuing to develop a diversified patent portfolio, Winbond has as of 2022 included trade secrets into our IP strategies. Winbond set about planning the mechanism of registering trade secrets, and held a total of 23 workshops which educate our employees on how to identify and take inventory of confidential information or trade secrets that they may encounter as part of their work duties, further improving Winbond's IP protection.